As we wrap up 2021 on LinkedIn, I asked some of my network who work in the corporate arena, to share some thoughts on what has been working for them on LinkedIn this year.
We also discussed what they are looking forward to developing, in terms of their LinkedIn presence, for 2022.
Keith Lewis, outgoing social media manager for Zurich Insurance has these thoughts:
2021 has seen some major changes for LinkedIn, many of which impact us in larger companies.
The sunsetting of the Elevate platform was a loss to those of us who used it to have our employees become more active on social media channels.
The new MyCompany tab has replaced much of that – and should be seen as an opportunity for any firm with a company page – it's a free tool to help your employees with relevant content to share with their networks. I'd encourage everyone to look into activating that function and really start to empower your colleagues to start to grow their networks and expertise. It's a big win-win for you, and for them.
For those with content creators under their roofs, the Creator Mode is a boost for them, giving more tools to grow their platforms. Embrace those who do this, and ensure they make the most of those features.
A couple of last opportunities to look into for 2022, if you haven't already. The opening up of longer form content for company pages is something many will find easy to adapt to. Events and Live video are also new features LinkedIn have rolled out in 2021 which should provide ample opportunities for business to bring their company expertise to the fore.
How changes on LinkedIn have affected corporates this year?
Sarah Reveillard, Global Social and Content lead for Microsoft Advertising.
A key part of Sarah's role is to enable the growth of Microsoft Advertising LinkedIn company page in terms of engagement and followership (currently holds 35k+ followers).
"I have seen so many great new features this year that have enabled businesses of all size to thrive on LinkedIn and below, I wanted to share more specifically, some key learnings we were able to make by experimenting extensively with LinkedIn pages articles.
The power of storytelling with LinkedIn articles for pages

LinkedIn articles has been available on personal profile for quite a while, and it has recently launched this year for organic company pages. Microsoft Advertising is one of the only few corporates this year, if not the only one to have published over 10 LinkedIn articles and the results were fantastic in the following 3 ways.
#1 Great for search engine ranking and great for the customer

One of our LinkedIn articles features the transcript of Microsoft Advertising podcast "The Download" and one of the many benefits is that the podcast episode can be embedded into the article for a better customer experience (see below) – It is also possible to embed YouTube videos.
This is a great way to cross-promote the channels too. For example, adding the LinkedIn article transcript link to Spotify and YouTube is a great way to bring new visitors and potentially followers on our LinkedIn channel.
Another key benefit is that LinkedIn articles are indexed on search engine results so from a search engine optimisation (SEO) point of view to rank well, it's a great way to do it. Articles for pages also give us access to detailed audience insights, including "the firmographics of people reading and interacting with the content".
#2 Great for events in your own industry
One of the most successful use of LinkedIn articles has been the recap summary of a retail webinar series encapsulating different markets and user cases. To extend the longevity of the article, each customer success story was posted organically on Microsoft Advertising social channels at one week interval, which mean this one article drove 3 times more views than average and a great deal of shares and engagements. That tactic has been quite powerful post-event.
Additionally, a key benefit from LinkedIn company page organic is that it's possible to target per languages and other firmographics (below). It means that for global organisations such as Microsoft Advertising, this feature has been powerful to create and publish bespoke social posts in different languages, while tagging the customer and colleagues involved to strengthen our customer relationships.
With LinkedIn newly launched Events Ads, we are exploring the opportunity for one of our key events next year as an added way to drive extra reach pre-event.
#3 Great for humanising brands

Another very successful way, we've been using LinkedIn articles was for an initiative in Australia where our colleagues at Microsoft Advertising have been closely involved in support of Mental Health. An increasing trend in content marketing is for brand to not just talk about themselves but also shine a light on its employee by featuring their work. Using LinkedIn articles is a great way to give our brand and our colleagues a voice for such an important topic, especially during those strange times. This article has helped us to deepen our community engagement in a time where empathy and connectivity is more important than ever.


To conclude, I will finish with this, the launch of LinkedIn articles has been a fantastic way for Microsoft Advertising to connect more closely with everyone, customers, peers, and people. To Kylee Lessard's point, thought leadership can take many forms, from industry insight to purpose-driven vision to transparent introspection and beyond. With Articles for Pages, brands have that flexibility.
Our thoughts – LinkedIn Creator Mode
In 2021, LinkedIn came of age, turning 18. Traditionally seen as more of a professional networking platform, 2021 is the year that the focus turned toward creators.
LinkedIn introduced Creator Mode for personal profiles, recognizing the contribution that content creators make to the platform. People who start conversations and discussions bring an extra dimension to a platform traditionally seen as a place for job seekers to go.
With Creator Mode, more members have been given access to LinkedIn Live and the ability to publish their own newsletter (using the articles feature). This swing toward building subscribers and a base of followers leads to suggestions of future monetization on the platform.
My own predictions for Companies on LinkedIn in 2022
Two features I predict to appear in 2022 are video shorts and audio. In 2021, LinkedIn acquired a short-form tutorial company called Jumprope. Creators could begin to create and share short tutorial videos in a style similar to YouTube Shorts, which will fit in with LinkedIn's goal of increasing skills development training and the expansion of the LinkedIn Learning platform. There are also rumors of a new Clubhouse-style audio feature for LinkedIn.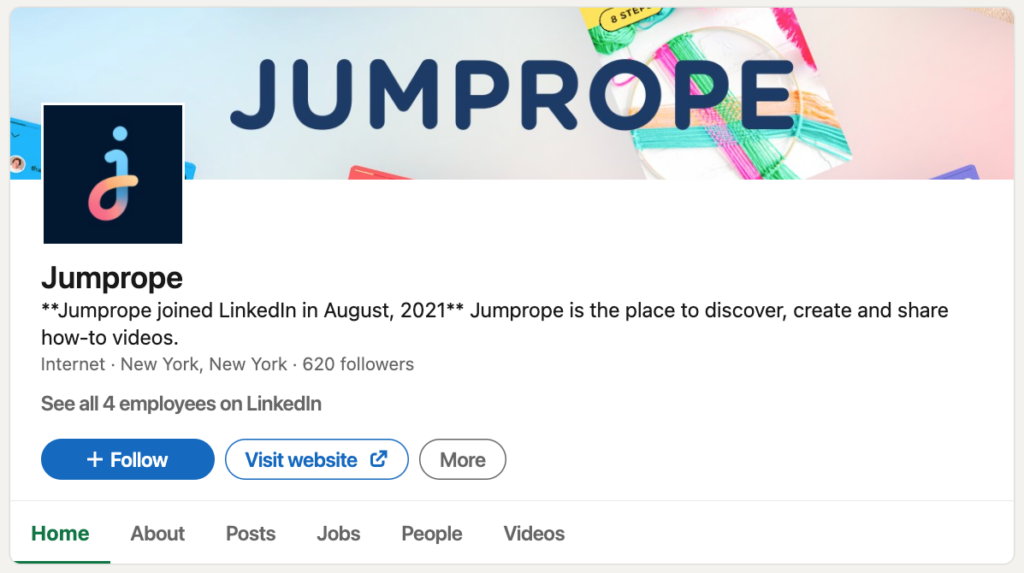 The focus of both of these tools would fit in well with the Creator focus. Marketers should keep an eye on creators who are building a following in a niche that aligns with their brand. Influencer marketing is coming to LinkedIn.
LinkedIn remains a place for job seekers and employers to find their next best hire. With the 'great reshuffle or resignation' taking place, the platform has grown to 800 million members (up from around 690 million in 2020).
Microsoft, which owns LinkedIn, can leverage its own products to improve LinkedIn. For example, members can now create native video one-to-one messaging directly on the platform. A person who connects with you can set up an instant video meeting inside direct messaging. You can also schedule future planned appointments. The software behind this comes from MS Teams.
For company pages, look forward to seeing more visibility and features being added in 2022. Companies were given access to publish articles on their pages directly in 2021. Having the ability to publish articles means more SEO for businesses and the ability to dive deeper into how they can serve their customers. Marketers could create articles putting a spotlight on their team—giving team members an opportunity to write about issues or areas they're interested in and bringing the human aspect to the business.
Another company page tool to look at is LinkedIn Events, which lets you deliver webinars or fireside chats with your employees.
Are you using LinkedIn to its full benefit for your organisation?
Let us help – find out how we support companies like yours here.